A Little History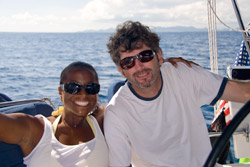 Our trip dates back much farther than when we casted off our dock lines in West Palm Beach, beginning our big sailing journey. It began when we first became a couple almost eight years ago while working at San Francisco Opera. We both shared a dream of traveling the world and doing something adventurous. Three years ago, on New Years eve, we took it seriously; it was now or never! We decided that cruising on a sailboat for a year would be a great way to travel, meet interesting people and enjoy some amazing sailing. We started saving and planning, not knowing it would actually happen someday.
A few years later our plan took shape. We saved enough money, bought a boat and quit our jobs. It was very surreal and brought feelings of both fear and exhilaration. Once we arrived in Florida it took a lot of work to prepare and provision our Beneteau 423. We named her Rosario after the place we got engaged on Orcas Island, in the Pacific Northwest.
San Francisco is our home. We can't imagine living anywhere else, aside from St. Barts of course! We laugh about how much easier it was to buy a boat and take this trip than it is to buy a home in our beloved City. I guess we'll face that fact again one day.
Thanks for visiting our site. We hope you enjoy viewing some of our photos and reading about our crazy adventure. Write a comment on any post. We love to hear from others who share our passion for travel, food and of course sailing!
Our Itinerary
Nov – Dec: SE Florida – Bahamas
Jan – Feb: Bahamas to Virgin Islands
Mar – May: Caribbean
May – Jun: Atlantic Crossing:

Leg 1: Antigua > Bermuda
Leg 2: Bermuda > Azores
Leg 3: Azores > Lagos (South Coast of Portugal)

Jun – Nov: Western Mediterranean
Our Sailing Bios
Tni Newhoff
David Newhoff
Sailing Organizations
SSCA – Seven Seas Cruising Association
World Cruising Club – Organizers of ARC Europe
US Sailing – National Governing Body of Sailing in the U.S.
ISAF – International Sailing Federation
ASA – American Sailing Association
RYA – The Royal Yachting Association
Magazine/Web Articles
We were thrilled to be mentioned in the September issue of Latitude 38.
The ARC wrote about us prior to the Atlantic Crossing.
USF Magazine, Spring 2008 mentioned us in their Alumni notes.
About Rosario: Our Beneteau 423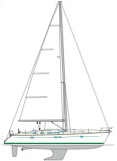 We compiled a complete list of specifications and installed equipment. Below are some of the basic measurements.
Basic Measurements
LOA : 43′ 2″
LWL : 41′ 8″
Beam : 12′ 11″
Mast length (over water) : 54′ 4″
Draft : 5′ 7″