Sailing Profile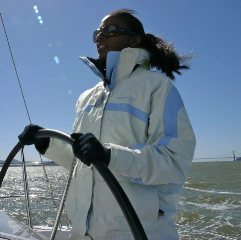 Growing up in Santa Barbara I have always had a deep love for the ocean, and fortunately, have never lived more than a few miles from it. It was seven years ago that my husband took me for a sail on San Francisco Bay on one of our first dates and I have been sailing ever since. Over the last three years I trained as a skipper. I received basic keelboat and coastal cruising ASA certificates from Modern Sailing Academy in Sausalito, California.
I have been sailing full-time since November, 2006 aboard our Beneteau 423. From the Caribbean we sailed to Bermuda and then on to Portugal, bringing our total cruising log to 7,000 nautical miles. During our trip I shared the responsibilities of skipper with my husband.
Training and Certifications
Modern Sailing Academy, Basic Keelboat (ASA)
Modern Sailing Academy, Coastal Cruising (ASA)
First Aid and CPR Training
Basic Marine Meteorology, Lee Chesneau
Ham Radio License, KI6HCF
ISAF Classification, USATN13
Blog Archives
View Tni's Posts
Professional Details
Before leaving San Francisco, I worked for a law firm in Palo Alto: Wilson Sonsini Goodrich & Rosati. You can check out my work history at LinkedIn.
When I'm not Sailing
I love running! I have completed 5 marathons along with a number of half marathons and various other races. I run with the SF based running club, Pacwest Athletics. I have a passion for food – both eating it and cooking it. I love reading, music, dancing, and anything to do with the outdoors.